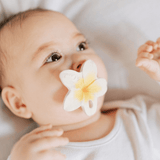 Hawaii the Flower Mini Teether
£10.95 GBP
A sweet little flower teether inspired by the Plumeria Obtusa Hawaiian flower. It's perfect for babies to hold and chew with each flower featuring a range of different textures and colours, including raised spots to calm teething gums.
This Chewy-to-Go baby teether helps the natural development of babies' mouths while stimulating their senses. Each chewing toy is handmade one by one with 100% natural rubber and hand painted with natural pigments from plants. The perfect sustainable gift for newborns.
Each flower measures approximately 7cm at its widest point.
Safety and Care
Non-toxic and safe for children. CE certified by Bureau Veritas. PVC, BPA, Phthalates and Nitrosamines free. Highly hygienic, mold free. There are no holes in any of our designs preventing the presence and growth of bacteria and mold. 
Cleaning
To clean, simply wipe your toy with soapy water and a damp cloth. Store in a dry place. If left on the side of a bath or on a tile that may be slightly wet or moist, the toys will start to mold (like any natural products). Air drying between use, is recommended. Do not leave the toy in direct contact with sunlight or any artificial light for long periods of time, as the colour may fade away. Do not sterilize or place in the fridge.
Brand: Oli and Carol
Designed in Barcelona, made in Morocco. 
Related products